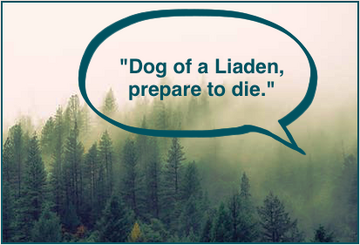 This story began as a splinter of Ghost Ship, first published online at Splinter Universe
Subsequently published in A Liaden Universe Constellation, volume ii
Also published in Allies: Adventures in the Liaden Universe book #12
Takes place shortly before Miri gives birth to Talizea yos'Phelium

Concurrent with the latter chapters of Ghost Ship

Begins and ends on Surebleak but most of the story is set on planet Vandar
Characters
Edit
Nelirikk Explorer (see Nelirikk, Diglon, & Hazenthull)
Hakan (Meltz) Darnell and his wife Kem, who befriended Cory and Meri Robersun when they were stranded on Vandar[1]

now they're university students in Laxaco City and members of The Explorers Club
Zhena Cahn, aeronautics instructor

Zhena Trelu, Estra, an elderly widow who shared her house with Cory and Meri Robersun, in exchange for work[2]
Zhena Sandoval and her brother, DoI snoops
Agent Karin pel'Nara / Zhena Pelnara
The Department of the Interior Technician Ilbar ten'Ornold
Clonak ter'Meulen, one of the commanders of The Scouts
Miri Robertson, half-a-delm of Clan Korval
Nelirikk sipped from his canteen. He was, Val Con thought, a woodsman the like of which Gylles had rarely seen: bold in black-and-red plaid flannel, work pants, sturdy boots, with a red knit cap pulled down over his ears in deference to the chill of dusk.
And yos'Phelium abandons a brother even less readily than Korval relinquishes a child.
Val Con grinned. "Anyone may break a glass," he quoted, "but it takes a master to break a dozen."
"There are, so I'm told by the Old Scout, certain protocols for operations on forbidden worlds."
"You made a good choice, Cory. This world's been changing for a long time. Would you believe I remember a time the nearest telephone was right downtown at Brillit's?"
"Sleep well, Zhena Trelu. We will bring our child to see you -- soon."
"Dog of a Liaden, prepare to die," Nelirikk said calmly.
"The captain will have me shot," Nelirikk said, stubbornly.
Hakan was wide-eyed, and Kem no less so.
References
Edit
↑

Carpe Diem

↑

Carpe Diem