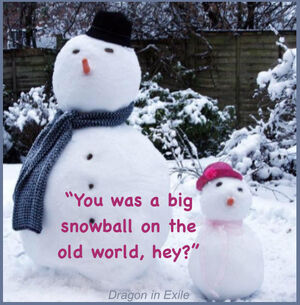 Idiomatic Language from the Daiellen SectorEdit
Rowdy, rambunctious, and c-c-cold, the planet Surebleak provides rich fodder for creative expression. Starting with I Dare, the dialogue is filled with cool coinings, icy expressions, wintry word play, metaphors, similes, analogies, and other interesting language. Names change, too, Surebleak style.
Wintry Imagery
Edit
Surebleak is cold, and 'Bleaker lives revolve around the weather, so there's lots of wintry language. (But no sledding scenes, yet)
Cold Comedy
Edit
"What is it doing in orbit around Surebleak?"
"Maybe they need ice," she said[27]
Other Idioms
Edit
Morphing Names
Edit
Liaden and Yxtrang names present a challenge to the Terrans on Surebleak, so they simplify:
"Silver, is it?" he said interestedly. "Now there's a pairing you don't get every day. I'm Golden myself. Mike Golden." [30]

"It's his joke," that same son said, astonishingly. "It isn't very good, but I don't mind it."[31]
References
Edit